It's week 4 of Sunday Social!! I was so mad I missed last weeks link up, but I had some
other stuff going
on. Go link up with
Neely
and
Ashley
now!!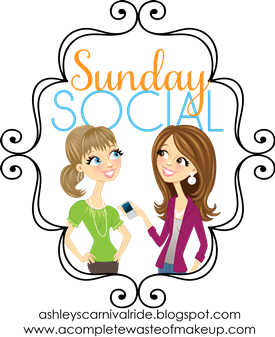 What is your favorite store to shop at?
Target! I freakin love Target. I might go to Target like 3 times a week. Just because. I also LOVE Anthropologie, Nordstroms, F21, Kohls, and Ann Taylor Loft. Those are my go-to stores.
If you could afford anything and everything, which designer brand would you covet?
Michael Kors. I already have some stuff of his, but with ulimited funding I would own a ton more. I would have a closet of Christian Loubotin shoes...because really who wouldn't. And I would be sporting quite a bit of Chanel, my dream is to own one of these quilted bags!
Khloe Kardashians Closet
Must have closet staple?
A pair of jeans that fit good, look good and are comfortable. AND cardigans. I am obsessed with both and own way too many of each. See my post on my current fav jeans
here
!
Oh and something I can't forget because I am OBSESSED with them...scarves. I have like 50 and I love them all equally! Can't wait for fall to break them out again!
Favorite kind of shoes?
I love everything from heels to flip flops. But I would say to stay in season, a good pair of wedge sandals are my go to for summer.
Best clothing deal you've ever gotten? (sale or amazing find)
Hmmm...this is a hard one!! I would have to say a Michael Kors bag that retailed for like $450 for $200 at TJMaxx!!
Style you'd love to try?
If I could get these post pregnancy thighs under control...some colored skinny jeans! I absolutley LOVE this look but I don't think I could pull it off.
Can't wait to go read all of your links up!!