It's never to late to mail people a picture of this guy...
I have been wanting to get birth announcements done for...well....15 weeks now. Actually 15 weeks today! Yes, I know. Total procrastination. But I truly took my maternity leave as a bonding experience with my Baby J and didn't get as much done as I had hoped or planned. I thought I would have more time on maternity leave? Who was I kidding, I was flat out busy with this guy, and when he wasn't totally consuming my time on purpose, he was consuming my time by just being cute!
So without further adeiu, here are the Better Late Than Never, birth announcements that I made through Shutterfly.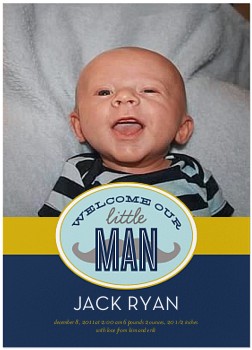 Welcome Little Man Birth Announcement
I have to say I kind of
love
them!